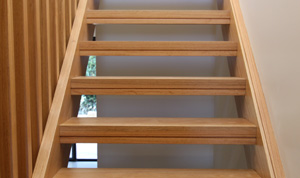 Open Tread
Open tread staircases have no risers and give an open feel to a room.
They are modern and have become very popular with todays look and styling. They also allow the maximum amount of light and space.
Cut String
Cut stringers have a concealed stringer which finishes under the stair tread. The stringer follows the line of the tread and riser so it appears to be invisible from the top view. Cut string staircases can be manufactured to suit any style.
Closed Riser Staircase
Closed riser staircases are a traditional form of staircase with riser between each tread with no openings. This style of staircase is the most popular and allows for the underside of the staircase to be utilised for such things as storage, laundries, bathroom and study nooks.